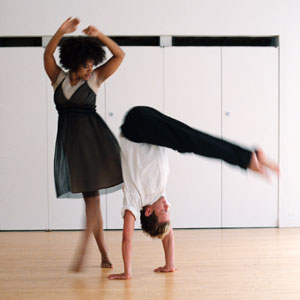 It's All True premiered at The Duke Theater, NYC, May 31-June 3, 2007. An evening length work for 6 dancers and one actor, It's All True mines how our conception of the past can be altered based on the need to reconfigure our personal histories. The work concerns a sentimental central character grappling with his recollections. As he attempts to distinguish fact from fiction, a group of dancers engages in his process of remembering: preserving, forgetting, and distorting information.
The dance leads us to ask questions about our understanding of the past, underscoring the tremendous ambiguities in our individual and collective recollections. With a lush, dynamic original score by Thomas Cabaniss, text by Dorothy Barnhouse, and lighting by Kathy Kaufmann. It's All True is approximately 1 hour long, performed without intermission.
Reviews
"Watching the piece unfold, you realize two things about Ms. Easton's choreography over the last 15 years or so and why it is so intelligent and engaging. She choreographs like a poet, weaving together piercing, elliptical observations. And she knows her dancers lovingly and well.

Jennifer Dunning, June, 2007, The New York Times
Read more
"Easton is a member of that dangerous species Choreographers with Ideas. Yet far better than most, she understands how to convey her concepts by means of dance. Often, she does this by translating her themes directly into dance problems; her new "It's All True" illustrates the fallibility of memory by passing a movement sequence from dancer to dancer, telephone-game style. Just as typically, though, the work is equally a love story: one man's romanticized memories of an affair are challenged, even coöpted, by the group. The effect is comic and wistful, in tune with Thomas Cabaniss's original score."

Brian Seibert, May, 2007, The New Yorker
New York Times Article
"I come to these kinds of occasions," Ms. Easton said of her session with the teachers, "with the premise that everyone has very interesting ideas about what they're going to see, that they're all expert perceivers, even if they're not expert in the art form of dance. My job is to help them understand that about themselves, to help them to know that they have many compelling insights into any work of art."
Sylviane Gold, July, 2006, The New York Times
Read more
It's All True received generous support from Bank of America, The Bossak-Heilbron Foundation, The Harkness Foundation for Dance, HSBC Banks, Lehman Brothers, The Maxine Greene Foundation for Social Imagination, the Arts and Education, and many individuals. Additionally, It's All True was made possible, in part, with public funds from the Manhattan Community Arts Fund supported by the New York City Department of Cultural Affairs and administered by the Lower Manhattan Cultural Council. The work was also supported through a residency at The Kaatsbaan International Center for Dance.